Accounting and Finance
09 November 2023
How to Structure Your Offshore Accounting Team

Accounting and finance are vital components of any business. All businesses, large or small, in any field, must keep track of their records in order to manage their budgets and comply with the rules. While many businesses conduct these tasks in-house, others choose to employ an offshore accounting and finance team from countries such as India and the Philippines.
There are several benefits of choosing an offshore team for your accounting and finance. On top of the obvious cost savings, companies with an offshore accounting team increased their productivity and delivery efficiencies dramatically, working with an offshore accounting team allows firms to reduce their workload and expand their operations more effectively. As a result, the quality of their output improves, perhaps increasing their profit. Offshore accounting team also allows businesses to better care for their personnel by optimizing their time for skill development by scaling their workforce flexibly.
A reliable offshore partner does not compromise on quality, A lower cost does not imply a lower level of expertise or qualification. In truth, many businesses discover that their new offshore partner has a competent workforce that complements their in-house team. Your accounting and finance team offshore are also very adept in other countries' regulations with in-market awareness and competence, bringing cost and efficiency savings to fruition as quickly as possible.
It goes without saying that your offshore staff does not compromise on quality. Offshoring your accounting team provides businesses access to highly qualified and experienced people with specific knowledge that can help you build and develop your company. The candidate pool for your personnel will be significantly greater, giving you the opportunity to select from the best accounting and finance professionals.
Are You Ready to Build Your Accounting Team Offshore?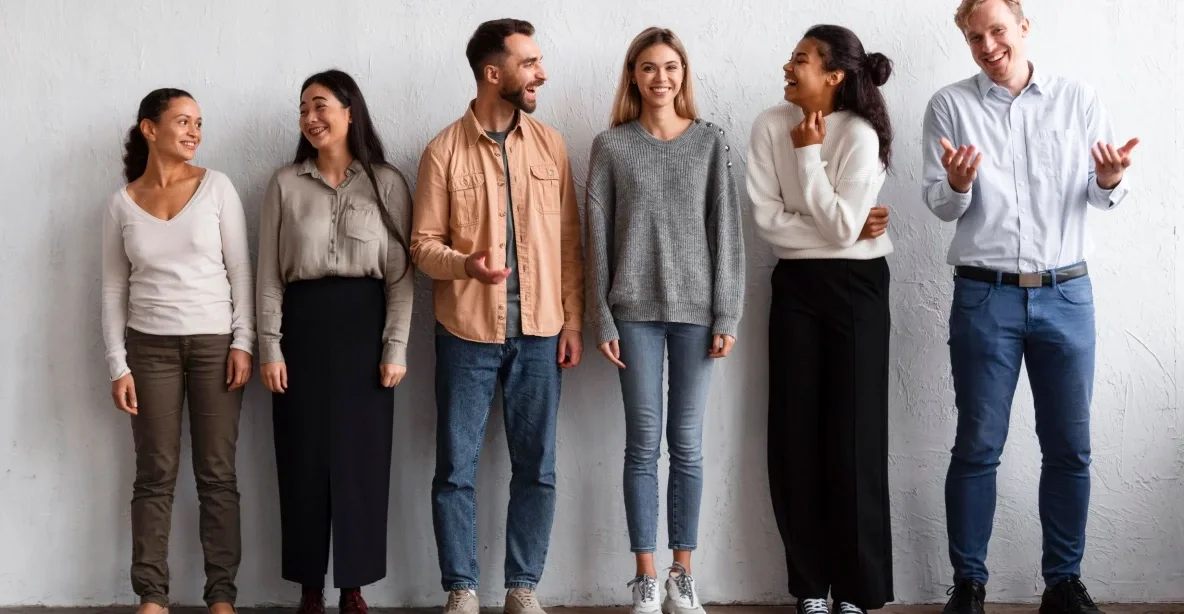 Photo from Freepik.
If business is booming and you need to scale up to keep up, It is natural for your workload to rise as your business grows, which can quickly become excessive. As a result, you and your employees may get overwhelmed. This can cost your company more than planned, especially when the quality of their work and your products deteriorates. If you want to build financial discipline and cut operational costs without sacrificing quality, an offshore distributed accounting team is the answer. Unient ensures that that your offshore accounting and finance team is an ideally qualified long-term resource that handles the complete end-to-end implementation of your new offshore operation.
Unient's offshore accounting teams give the same level of day-to-day accounting support as in-house accounting departments. This gives you the time and attention you need to make changes to your processes and procedures without having to manage a large team.
The right team composition will vary slightly depending on your specific business and industry. However, when building an accounting team from scratch, these are the key roles you'll want in your corner.
Typical Roles You Need in Your Offshore Accounting Team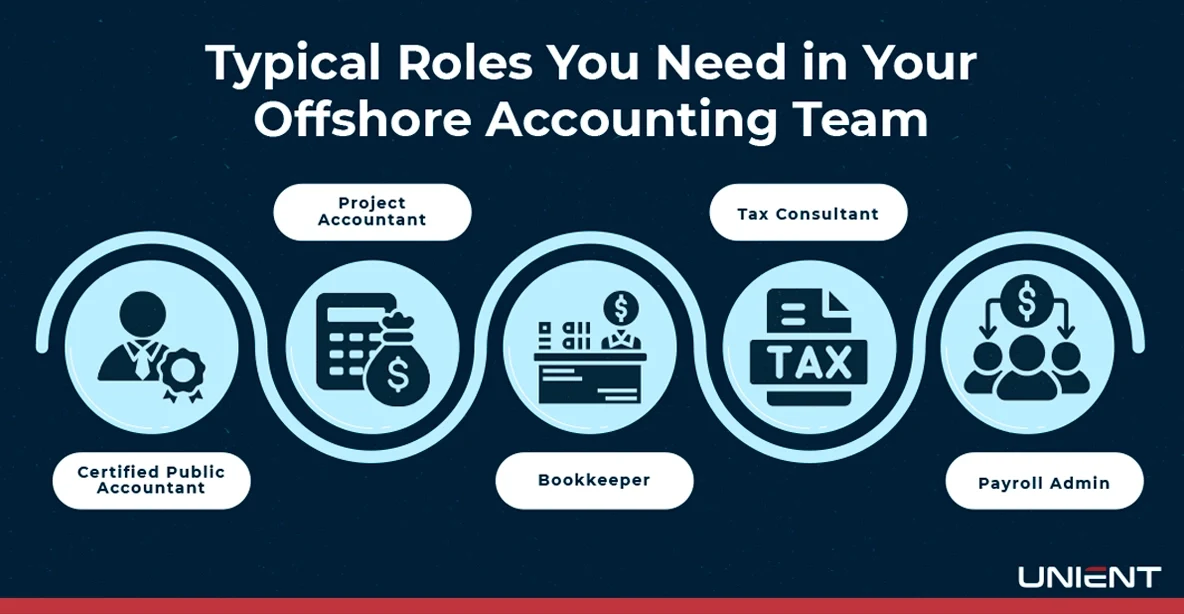 Certified Public Accountant
A CPA maintains, monitors, and interprets financial records, prepares financial statements and tax forms, oversees audits, and ensures compliance with legal regulations.
Project Accountant
Responsible for managing the financial activities throughout a project's lifecycle, including monitoring and approving expenses, and ensuring that project finances are all in order.
Bookkeeper
Handles data input in ledgers and records all financial transactions, such as purchases, expenses, revenue, and invoices throughout a business' accounting cycle.
Tax Consultant
High-level strategising on all tax-related matters including ways to minimise tax liabilities while ensuring compliance with tax laws.
Payroll Admin
Payroll administrators manage all payroll-related processes including salaries, verifying schedules and time-keeping, issuing paychecks, and keeping employee records up to date.
Unient is your versatile partner for better offshoring. We source and manage top-tier offshore accounting and finance talents for you.
There are a lot of organisational pitfalls when managing a distributed team, but with Unient as your offshoring partner, this is not something you will need to worry about. The Operations Manager and Client Success Manager will handle this on your behalf. We will provide all the necessary operational support your team needs to function at full capacity and deliver on objectives.
With the right people, the right tools, and a well-organised operation in place, you will reap the full benefits of the distributed workforce model we offer.
What Your Offshore Accounting Team Needs to Succeed
The Right Talent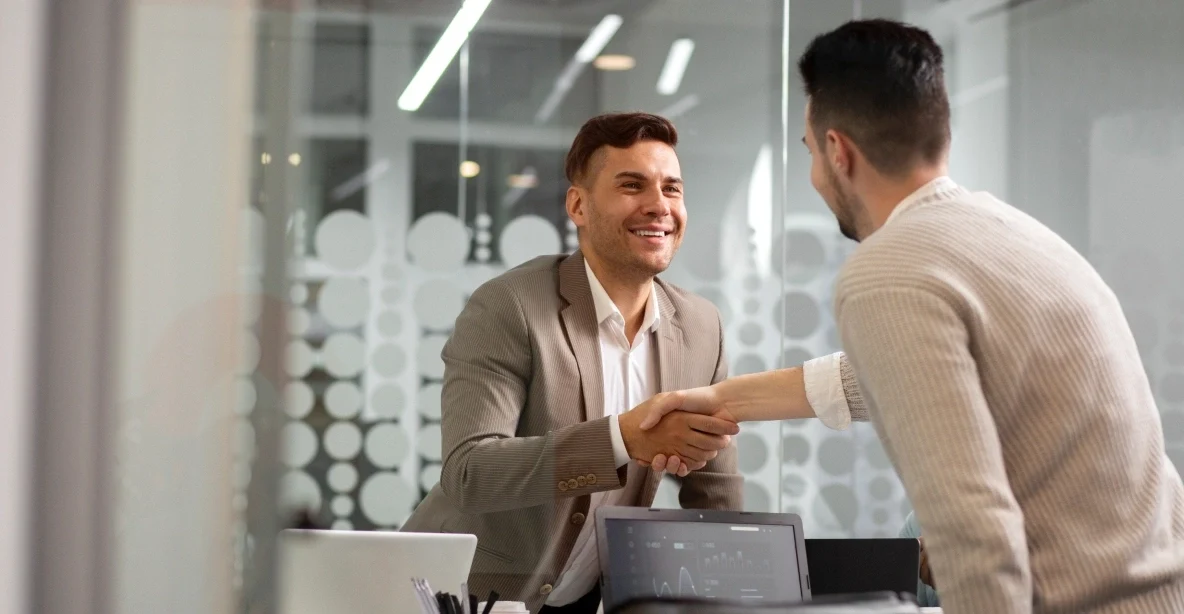 Photo from Freepik.
Putting the right talents in the right roles is the first step to building your offshore accounting team. It's crucial to get this part right since there is no room for error when we are dealing with financial data. Unient will source, on-board, and train to your specifications the skilled accounting and finance professionals you need in your team.
Structure and Processes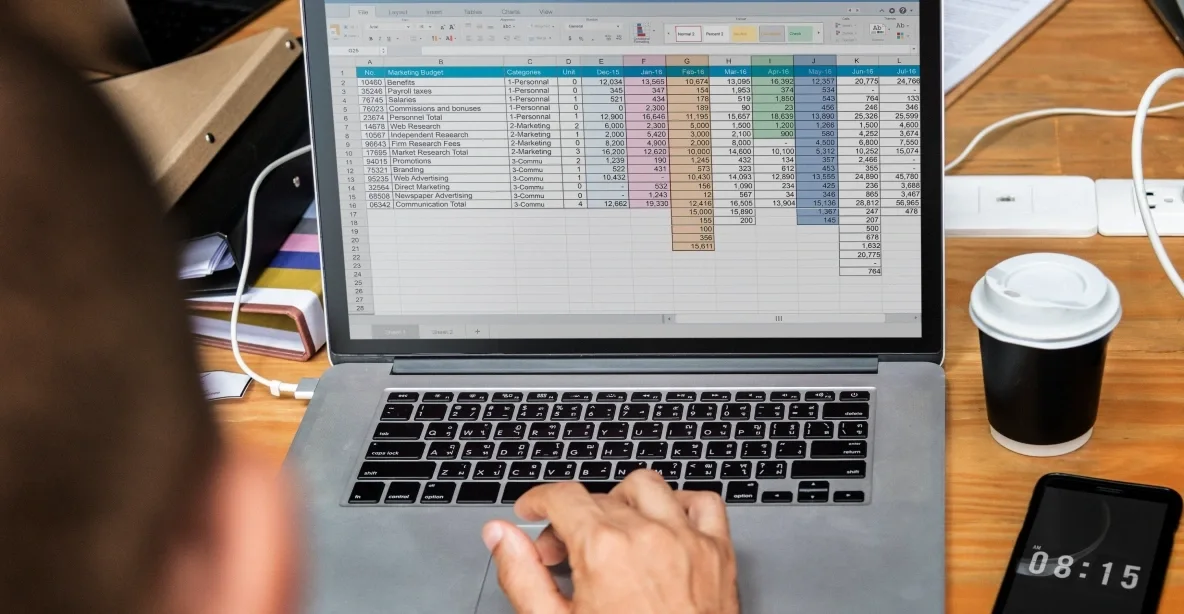 Photo by rawpixel from Freepik.
Because of the process-heavy nature of accounting and finance, internal controls and structures need to be in place. You care about results, as such, your distributed accounting team is results-oriented. However, results are a product of processes. The right processes are a far bigger factor in success than proximity. Your operations Manager will oversee and be accountable for your offshore team's day-to-day performance and output.
Effective Internal Communications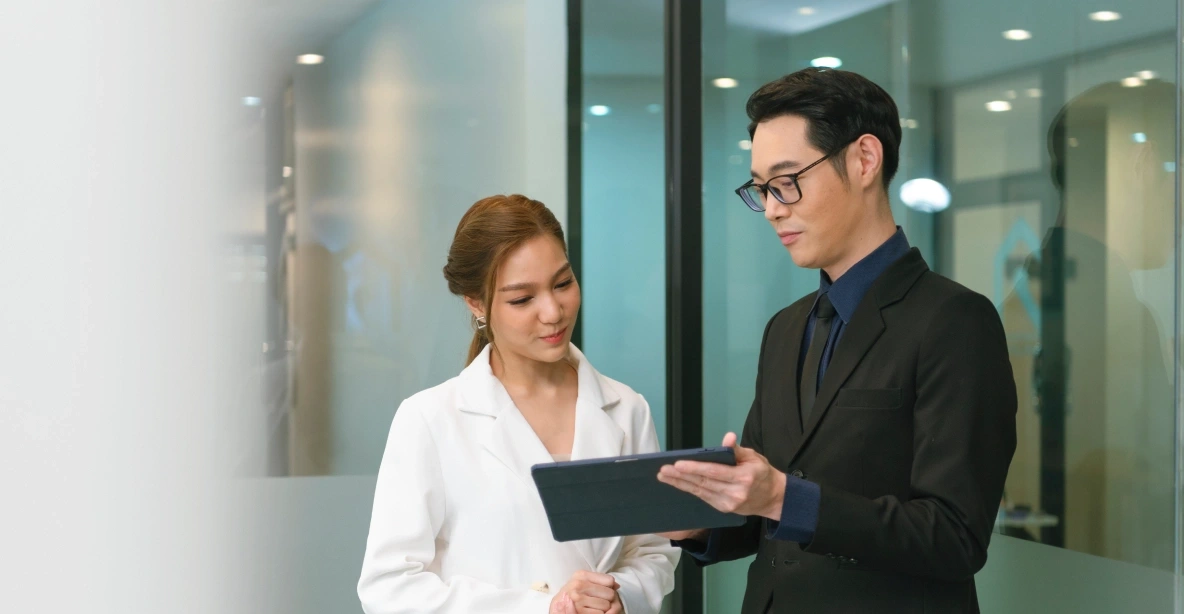 Photo by our-team from Freepik.
One of the biggest concerns about offshoring is the possible decline of synergy and collaboration between team members, which will ultimately result in a decline in the quality of output. Without good communication, any team — whether office-based or distributed — will struggle to achieve its goals. Effective internal communications are intentional, frequent, and consistent. Your Client Experience Manager will be right there to facilitate this between you and your offshore team. We also encourage and enable direct communication between leadership and onshore and offshore team members.
If you have questions about offshoring your Accounting and Finance operations or if you want to explore the other roles available, send us a message to schedule a commitment-free consultation. We'll help you get started on your offshoring journey.